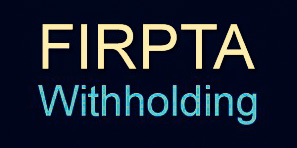 IRS Audit Campaign Targets Nonresident Alien U.S. Real Estate Activities
On September 14, 2020 and October 5, 2020 the IRS announced the launch of two campaigns that would target the real estate investment activities of non US persons in the United States. The October 5, 2020 campaign focuses on NRAs receiving rental income from U.S. property and the requirement to comply with the Internal Revenue Code's reporting and filing requirements. The IRS September NRA U.S. real estate campaign targeted compliance with the withholding and reporting obligations of the Foreign Investment in Real Property Tax Act of 1980 (FIRPTA).
Why These Two Campaigns?
The purchase of U.S. real estate by foreign nationals is a major source of investment in the United [Read More]